The indoor garden at Collège de Maisonneuve, the DebConf 17 venue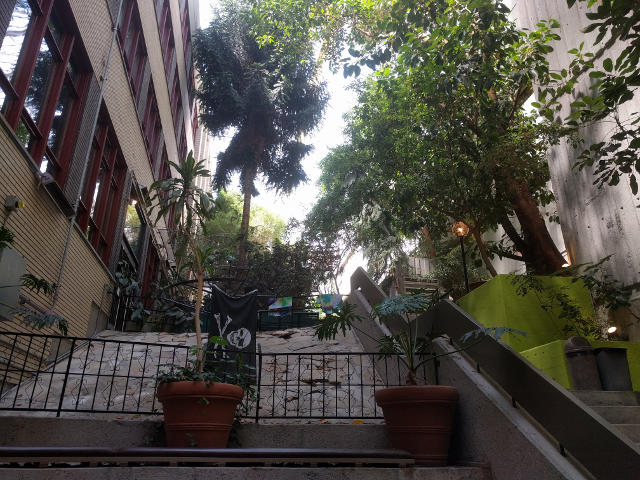 I'm currently at DebConf 17 in Montréal, back at DebConf for the first time in 10 years (last time was DebConf 7 in Edinburgh). It's great to put names to faces and meet more of my co-developers in person!
On Monday I gave a talk entitled "A Debian maintainer's guide to Flatpak", aiming to introduce Debian developers to Flatpak, and show how Flatpak and Debian (and Debian derivatives like SteamOS) can help each other. It seems to have been quite well received, with people generally positive about the idea of using Flatpak to deliver backports and faster-moving leaf packages (games!) onto the stable base platform that Debian is so good at providing.
A video of the talk is available from the Debian Meetings Archive. I've also put up my slides in the DebConf git-annex repository, with some small edits to link to more source code: A Debian maintainer's guide to Flatpak. Source code for the slides is also available from Collabora's git server.
The next step is to take my proof-of-concept for building Flatpak runtimes and apps from Debian and SteamOS packages, flatdeb, get it a bit more production-ready, and perhaps start publishing some sample runtimes from a cron job on a Debian or Collabora server. (By the way, if you downloaded that source right after my talk, please update - I've now pushed some late changes that were necessary to fix the 3D drivers for my OpenArena demo.)
I don't think Debian will be going quite as far as Endless any time soon: as Cosimo outlined in the talk right before mine, they deploy their Debian derivative as an immutable base OS with libOSTree, with all the user-installable modules above that coming from Flatpak. That model is certainly an interesting thing to think about for Debian derivatives, though: at Collabora we work on a lot of appliance-like embedded Debian derivatives, with a lot of flexibility during development but very limited state on deployed systems, and Endless' approach seems a perfect fit for those situations.
[Edited 2017-08-16 to fix the link for the slides, and add links for the video]